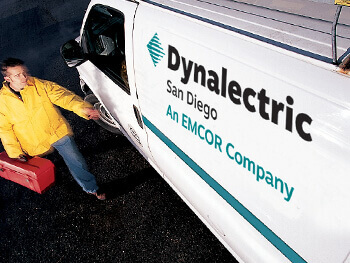 Dynalectric San Diego has a highly trained staff of electricians, craftspeople, managers, and specialists who provide high quality site-based maintenance services in and around San Diego.
Customized Preventive Maintenance
Our team works closely with clients to develop tailored preventive maintenance programs to meet their unique facility needs and specific budget demands. We aim to match our preventive services with the goals and outcomes that benefit our clients' business model, like reducing operating costs by increasing system efficiency or minimizing disruption to business by spotting equipment malfunctions early.
Much of our business comes from returning customers – and even when we receive work from new customers, we strive to exceed their expectations so that they too will become returning customers.
Electrical Maintenance Solutions That Fit Your Unique Needs
Our San Diego-based service team has commercial electricians on call 24 hours a day, 7 days a week that can complete any job at any time. We pride ourselves on our reputation as a can-do company with the ability to get the job done quickly and efficiently.
We offer a turnkey service solution, as we have the ability to furnish, install, and maintain any electrical system or combination of systems.
Our electrical installations and services include: