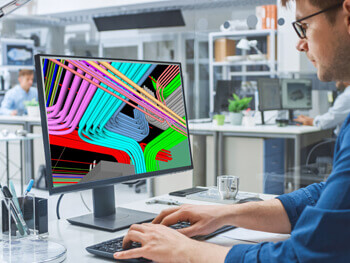 Dynalectric San Diego offers a full suite of BIM solutions that help ensure smooth coordination and construction deployment.
With BIM, we can evaluate spatial relationships, light analysis, and geographic information in an effort to enhance the design, constructability, and overall value of your project.
Trained and Experienced Professionals
BIM is a central component of our design and project coordination process. We have years of experience utilizing it in our projects and have invested in the latest equipment, software, and training.
With these tools in hand, our BIM team collaborates closely with our field electrical staff, leveraging their shared expertise to help create accurate and cost-effective electrical installation models based on the information available.
Enhanced Efficiency with Prefabrication
BIM-assisted prefabrication allows us to create components that are tailor-made to a project's specific needs and a site's unique challenges.
Additionally, it also helps facilitate more efficient coordination and better collaboration between our shop and field teams, which pays off in enhanced efficiency and accuracy during installation.
Advantages of BIM